Allwin EP 180 DX5 2H Ecosolvent Printer
Non-returnable
We IEION CORPORATION are the authorized and sole dealers of ALLWIN printing machines all over USA.
Ready for Eco Solvent Inks.

This Epson machine offers a printing quality which is competitive to the Japanese eco solvent printers.
It offers automatic feeding and collecting structure.
It comes with EPSON head model with intelligent infrared heater and fan drying system.
The machine undergone different quality tests and it is stable and enough for mass production requirement.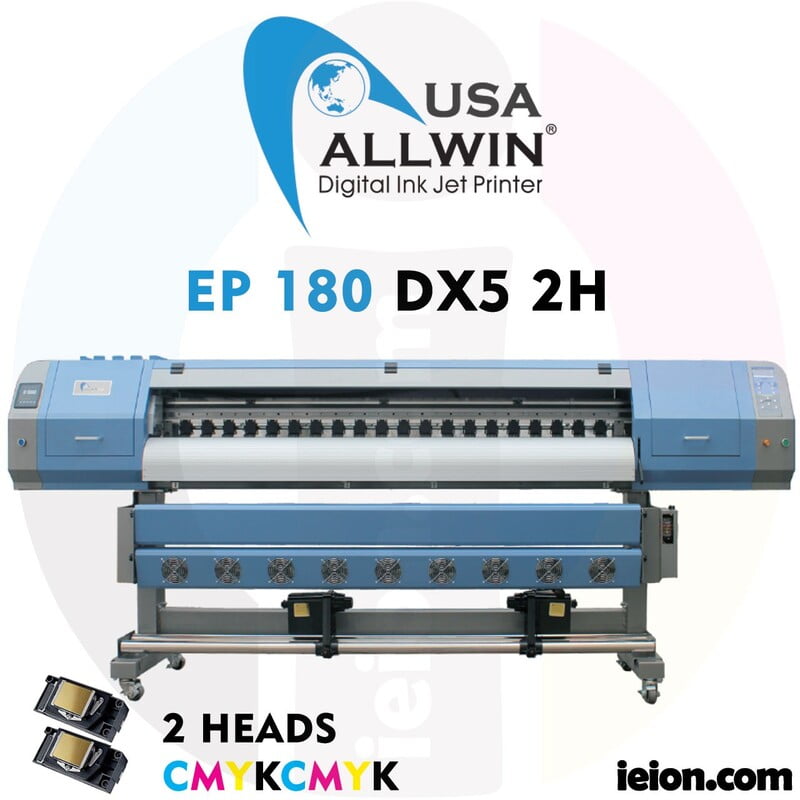 Product Details
Specifications
See specifications for more details.

Recommended
INK - Bordeaux MX
Printers
Printhead

Epson DX5

Printheads Quantities

2

Maximum width

Up to 1,800 mm (72")

Print resolution

720x1440

Ink Kind

Eco Solvent

Ink Supply System

1.5 liter bottle each color

Colors

C,M,Y,K

Drying Device

3 way intelligent heater (Pre/Print/After), Drying fan unit)

Media Width

Up to 1,850 mm (74")

Media Weight

Feeding : up to 100 kg (220lbs) / Take-up : up to 40 kg(88.2lbs)

Media Feeding / Take-up device

Equipped

Interface

USB2.0

Power Main unit

AC 220vts

Power Heaters

AC 220vts

Drying Fan Unit

AC 220vts

Power consumption

30amps

Temperature Environment

20°C-35°C (68-95 °F);

Humidity Environment

5-65 % RH (non condensing)

Equipment Dimensions

40" x 60" x 170"

Weight

400 lbs

Shipping Dimensions

132" x 30" x 37"

Shipping Weight

660 lbs

Warranty

1 year (Non consumables)

Speed (Draft Mode)

40 m2/h / 380 f2/h

Speed (Production Mode)

25 m2/h / 269 f2/h

Speed (High Quality Mode)

12 m2/h / 129 f2/h