Mimaki UVJ100-160 UV LED Printer
The UV-curable ink mounted on this printer is our newly developed "LUS-210", which has six types: C, M, Y, K, W, and Cl
*1
. A combination of a white ink with superior concealing capability and the spot color ink of a shiny clear ink allows you to use this printer in various applications, from printing on transparent/colored media to highly creative varnish print.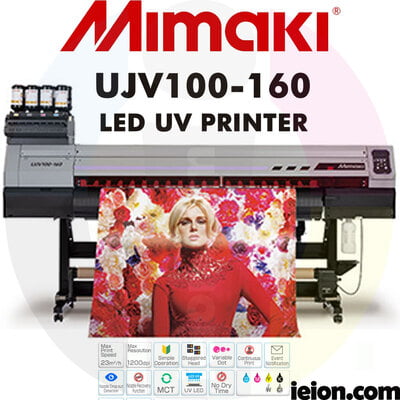 Product outlines
---
Latest features that achieve Mimaki quality
- Dot position / Feeding amount auto correcting function "DAS"
- Mimaki technology that enables stable and high-quality print
High productivity at a competitive price
- High-speed printing at a maximum of 23m²/h

*2


- Because no drying time is required, it is possible to perform installation or lamination immediately after printing.
Capability of supporting various media types and value-added prints, achieved by using UV-curable ink
- Use of UV-curable ink "LUS-210" enables printing on a wide variety of media.
*2: 23m²/h: When printed on tarpaulin using the 4C Draft mode
---
Production Example of UJV100-160

---
*Click to view larger image.
Outdoor signboard
Illumination signboard
Poster
Banners and flags (fabric)
Swing P.O.P. (PET film)
Label
Wallpaper
Shoji (sliding paper door)
---