Mimaki TS100-1600 Sublimation Printer
Non-returnable
A Sublimation Printer that gives professional results at an entry-level price: Our Mimaki TS100-1600.
Our Mimaki TS100-1600 is an affordable professional grade sublimation roll-based printer. Consistently print highly detailed photographic quality graphics for small to large production runs.
With two newly developed heads, the TS100-1600 has pursued high quality, high productivity, and stable operation as a sublimation transfer inkjet printer. It can achieve about twice the high-speed printing of conventional machines for textiles.
In addition to NCU (Nozzle Check Unit), NRS (Nozzle Recovery System) and MAPS4 (Mimaki Advanced Pass System4), which enable stable high quality printing, the DAS (Dot Adjustment System) was incorporated into the new "100 series" printers. Features that used to be time consuming and had to be done manually, such as Dot position and feed correction, can now be done automatically.
Our Mimaki TS100-1600 features:
· Availability in 64" with print speeds up to 753 Sq Ft/Hr
· Nozzle Check Unit (NCU): automatically monitors printhead performance and detects clogged nozzles
· Nozzle Recovery System (NRS): automatically substitutes unproductive nozzles, avoiding unnecessary downtime and poor image quality
· Sublimation ink colors: Blue, Magenta, Yellow and Black
· NEW Dot Adjustment System (DAS) automatically aligns to ensure consistent quality and repeatability
· NEW, easier to use RIP software, RasterLink7, included; reduces RIP time by 25%
· TxLink4 Lite supported for more advanced workflows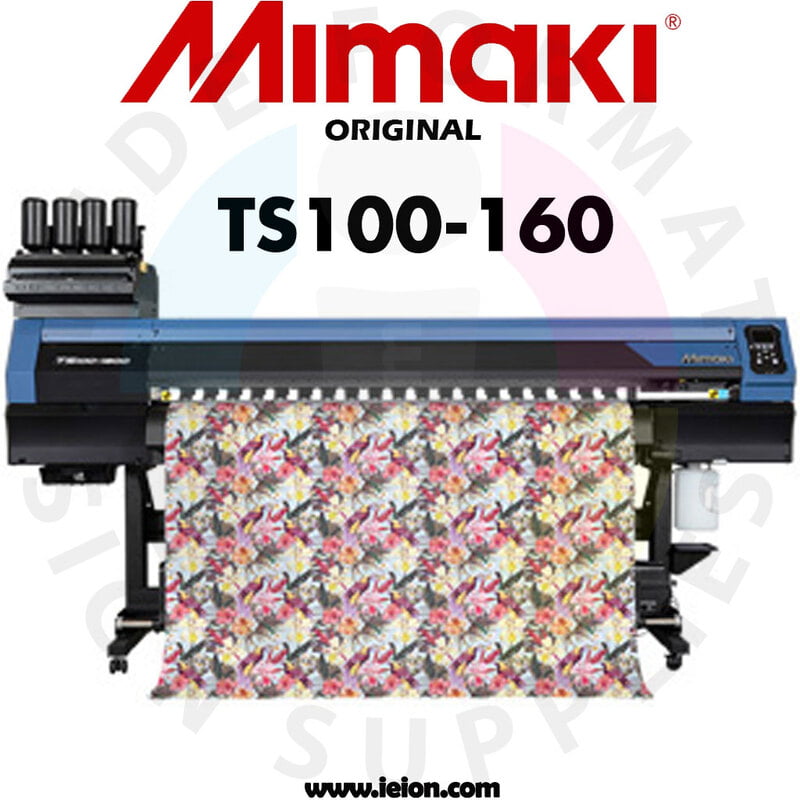 Product Details
Specifications
Download the flyer here !
Specifications
TS100-1600
Print head
On-demand piezo head (2 staggered layout)
Print resolution
360 dpi, 600 dpi, 720 dpi, 900 dpi
Ink
Type/ Color
Sublimation ink Sb610 (Bl,M,Y,K)
Capacity
1L bottle
Maximum print width
1,610 mm (63.4")
Media
Maximum width
1,620 mm (63.8")
Thickness
1 mm or lower
Roll diameter
φ250 mm or less
Roll weight
45 kg or less
Roll inside diameter
2 inch / 3 inch
Certifications
VCCI class A, FCC class A,
CE Marking (EMC, Low voltage, Machinery directive, and RoHS),
CB, ENERGY STAR®, RCM, EAC
Interface
USB2.0 / Ethernet 1000BASE-T
Power supply
Single-phase AC100-120 / 200-240V±10%, 50/60Hz±1Hz
Operational environment
Temperature: 20–30 °C (68–86 °F)
Humidity: 35–65% Rh (Non condensing)
Dimensions (W×D×H)
2,775 x 700 x 1,475 mm (109.3 x 27.6 x 58.1")
Weight
166 kg (366 lb)
Ink set
Printers Specifications
Printheads

Mimaki

Base System

Roll to Roll

Main feature

Print

Printing Size

64 in